Cat Utility Vehicles
Contractors, farmers, and maintenance technicians all agree that Cat UTVs make short trips around the worksite a breeze. Whether you're performing maintenance around an existing campus or traveling from one end of a jobsite or farm to the other, the Cat UTV offers a comfortable ride for up to five passengers, the ability to tow small trailers, and a bed for easy transfer of materials and tools. Plus, the robust suspension system and powerful gas or diesel engines make themselves at home in any kind of terrain. Get your Cat UTV from the Cat Rental Store and improve the efficiency and safety of your operation today!
---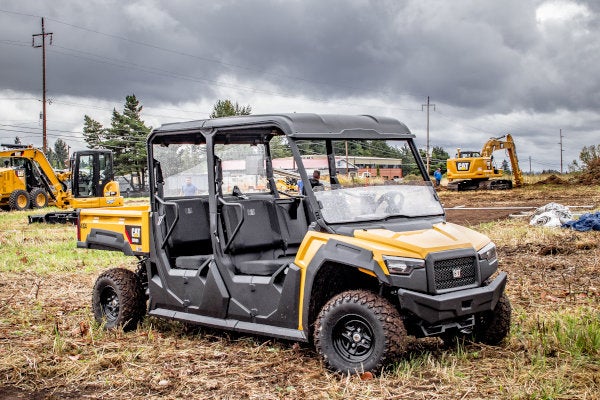 Cat UTVs
Cat UTVs are designed for performance in a variety of underfoot conditions. With top speeds ranging from 25 miles per hour (for diesel models) to 45 for gas, you can quickly get from point A to point B without trudging through the mud. And the Cat Rental Store even offers tracked models to tackle even more extreme ground conditions.
2-seater models
5-seater models
Gasoline models (45 mph)
Diesel models (25 mph)
Equipment
All Steel Cargo Bed with Manual Dump
Safety Standard Compliant ROPS
Front Tow Hooks
51 mm (2″) Tow Hitch