Special
Compact Machine Special
0% For 48 Months. $0 Down. 0 Hassle.
+ up to $500 Towards a Cat CVA*
At Peterson Cat, we save the best for you and your world of construction. Real-deal savings like 0% for 36 months with up to $500 USD toward a Cat® CVA* on Cat compact equipment. Easy-to-use features. Top-of-the-line technology. And, of course, real-time, hands-on support. So, if you're looking for the right people for the job, we're right here for you.
Preview Image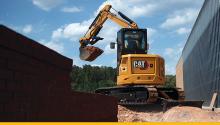 Read More