How to Choose a Mini Excavator
Excavators are versatile machines that come in many sizes and configurations. They are used for digging footings, land clearing, underground utilities, construction, agriculture and much more. With so many options, it can be difficult to know where to begin.
Important Questions
What is the work that needs to be done?
What is the size, shape and scope of the job site?
What work tools/attachments would make your machine more productive? (Rippers for stump removal, grading bucket for digging footings, compactor wheel for laying pipe…)
How will you transport the excavator?
Once you know these answers, you can begin specifying the machine. It must be large enough to get the job done, but bigger isn't necessarily better. How tight is the jobsite? Are there buildings close to one another?
This is when many of our customers decide to consult with a machine sales representative. They are versed in machine application and familiar with the territory. They can show options for new, used, and rental. They can even recommend subcontractors if needed.
---
Excavator Safety and Ergonomics
Line of sight to work tool
Backup camera
Lights package
Service points accessible from ground level
Comfort of seat and adjustable armrests
Easy-to-use controls
Advanced features like stick steer and cruise control
Open vs enclosed cabs with heat and A/C
Mini Excavator Size Classes
Less than one ton
One to two tons
Over two tons and less than six tons
Six to ten tons
Other Excavator Size Classes
Small excavators: 11-19 tons
Medium excavators: 20-35 tons
Large Excavators: 36-90 tons
Larger units are typically classified as shovels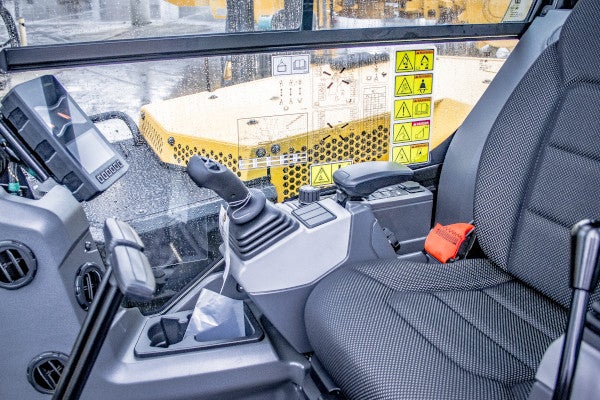 ---
Cat Mini Excavators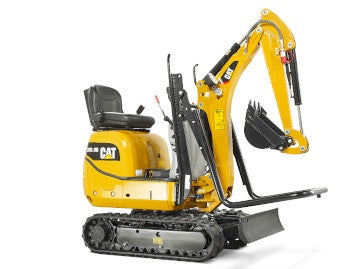 Less than One Ton Excavators
The 300.9D is the smallest Cat Mini Excavator. It's compact, easy to use, and versatile. With an overall width of only 2 ft 5 in, a retractable undercarriage, and foldable FOPS, this machine can easily fit through narrow passages and doors, even elevators. The small size of this machine and the range of Cat attachments offered combine with an available auxiliary power package to perform indoor demolition in tight spaces!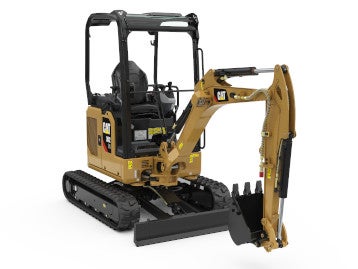 1-2 Ton Excavators
Next-Generation 1-2 Ton Cat Mini Excavators provide ultimate jobsite versatility as they adapt to various applications and industries with ease. The new liftable cab provides best-in-class serviceability while stick steer and cruise control deliver a truly unmatched operator experience.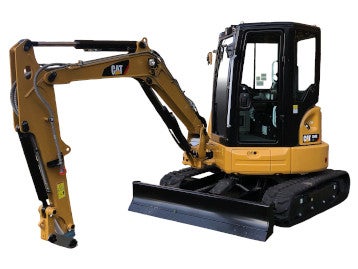 3-6 Ton Excavators
The new High Definition Hydraulic (HDH) System, redesigned operator station and enhanced digital control panel specially designed for Cat Mini Excavators – COMPASS (Complete, Operation, Maintenance, Performance, and Security System) – are all standard features that improve performance and increase value.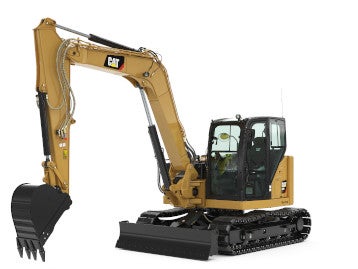 6-10 Ton Excavators
To develop the Next Generation of Cat Mini Excavators, we focused on the one most important component - you.
It includes multiple industry-first features:
Stick steer travel control
Cruise control
Full color LCD monitor with Bluetooth
High flow hydraulics on 309 model
---
Excavator Undercarriage Options
Job site environments vary greatly – manicured turf, rocky hills, paved surfaces. When possible, you should match the undercarriage to the task and conditions.
Rubber belt undercarriages are very popular. They cause less harm to jobsite ground, are more stable and allow for quieter operation.
Steel tracks provide very high durability and are well suited for rough terrain, uneven surfaces, and hard rock.
Steel track with rubber pads provides both strength and long-lasting durability while avoiding damage to hard surfaces such as asphalt and concrete.
Retractable undercarriages are common across micro excavators, allowing you to navigate tight spaces and narrow entrances. Then they expand for increased stability while working.
Excavator Blade Options
Straight blades provide simple functionality, allowing the operator to backfill ditches, stabilize the machine while digging, and smooth rough ground.
Angle blades allow for enhanced grading and backfilling ability without the need for a second machine.
Blade float makes grading long distances easy. This option allows the operator to keep grade with minimal effort.
Excavator Options and Configurations
In addition to size, there are many options tailor designed for specific applications.
Variable angle booms are different than standard or fixed-arch booms. These excavators have increased versatility because they have greater reach and dig depth while being able to crowd material and dig all the way to the blade
Long reach excavators have longer sticks and booms. They are especially well suited to dredging and deep excavation.
Compact radius and zero tail swing excavators have counterweights that do not extend much or at all past the undercarriage. These machines are ideal in tight spaces, like between buildings. 
High flow models have increased hydraulic flow and pressure, necessary for the most powerful worktools.