LONGER LIFE, LESS DOWNTIME
Do you use your motor graders in remote, unpaved areas or in punishing applications like logging haul road maintenance? The innovative Cat GraderBit edge system, which is made up of individual bits rather than one continuous blade, delivers significant bottom-line benefits.
---
LONGER LIFE
The GraderBit system takes up to 20 times the punishment of standard blade edges so you spend more time on the job and less time on replacement.
MORE PRODUCTION
The GraderBit system cuts through tough and compact materials with ease, allowing you to fix damaged roads in fewer passes — and burn less fuel doing it.
TIME SAVINGS
Frequent edge replacement usually means a trip to the shop, resulting in downtime, labor costs and wasted operator time. When a GraderBit is damaged, you just swap it out with a new one — no time or money spent replacing the entire edge.
SIMPLE INSTALLATION
The GraderBit system is faster and easier to install than standard edges, another time- and money-saver.
SAFER OPERATION
Changing edges on the side of a busy haul road puts your operators at risk. Using the GraderBit system helps eliminate that safety concern.
---
HOW IT WORKS
Adaptable to all brands of motor graders, the Cat GraderBit edge system combines a wide bit with a narrow adapter board to create a solid cutting edge to smooth rough surfaces. The adapter board holds the GraderBit in place and attaches to your motor grader's moldboard (blade).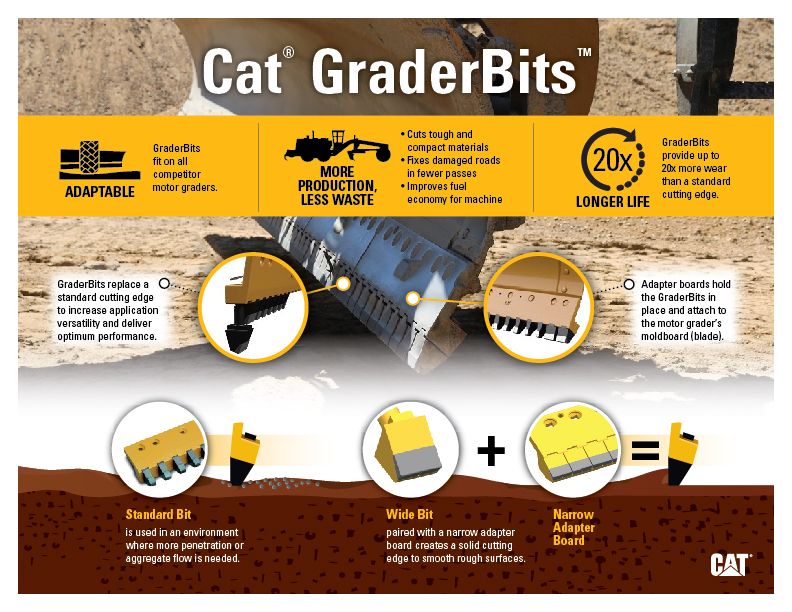 ---